Best CDS Coaching in Delhi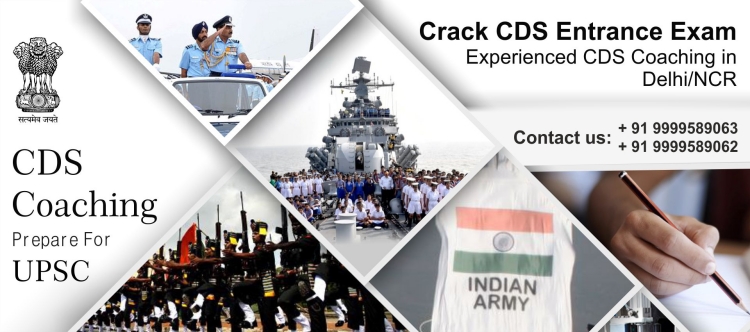 Gravity is the best CDS coaching institute in Delhi for anyone who is looking for CDS Written Coaching. Cracking the prestigious CDS written examination is not everyone's cup of tea. At Gravity Institute, our professional and expert faculty helps you to crack the CDS written exam.
Our CDS coaching curriculum is designed keeping in mind all the aspects to help candidates achieve highest success rate in CDS entrance exam. This is the reason we are rated among the best CDS coaching institutes in Delhi/NCR.
CDS also known as Combined Defense Service a channel to join Indian armed forces for graduates. CDS has emerged a good carrier choice over the years due to the prestige of serving motherland, stability and after service benefits. If you are looking to crack CDS entrance, Gravity can provide you the best CDS coaching in Delhi/NCR.
Why Gravity For CDS Coaching in Delhi?
Gravity institute is one of the best CDS coaching in Delhi which aim to prepare students for recruitment into the Indian Armed Forces via CDS examination. Joining services is not just getting another job, it's a way of life.
Gravity institute believe in imparting excellent knowledge regarding entrance exam for CDS through our accomplished and highly qualified staff.
Faculty being the experienced and professional provide great basics of all subjects thoroughly as we believe in practice makes perfect. Revision and doubt classes along with mock test are organized in institute for better efficient and best results in CDS.
Rated As Best CDS Coaching in Delhi by over 950 Students.
The faculty here at Gravity Institute has an experience in teaching students with zeal and offering positive results. Not only this, we are also helping candidates with sample papers, books and tricky questions so that the preparation is possible easily. Remember that only the graduates or those students who are in the third year of their graduation can appear for the examination.
If you are too looking to qualify the examination in first attempt, you can enroll a year before too. This will offer you an advantage. You will get sufficient time to clear your basics and then you can appear for the examinations.
CDS Written Exam Coaching Highlights
Regular GK Classes
Conducive environment for students, well equipped classroom
Regular Mock Tests for practice which helps the candidates to know the pattern of exam.
Shortcut methods for Maths and Reasoning
Study Material for CDS by expert faculty
Weekly conduction of Proper Counseling & Guidance sessions for the students
Practice papers are given to improve the speed so that exam is completed on time
Weekly sessions on Interview, group discussions, SSB round and grooming by retired army officers
Motivational sessions to boost the power in the candidate for nation
Monthly & Weekly Tests
Why Our CDS Coaching?
To those students who are willing for hard preparation tips, we offer doubt clearing session along with extra classes so that preparation can be possible for every student. This is the reason that Gravity institute is providing selection to the average students too.
One thing is that a student should make up his mind regarding the course and regarding the examination because then only they will be able to grasp the knowledge. We offer structures and constant working environment and latest updates about the training and selection procedure to help our students in receiving right information important for their examination.
Our CDS entrance coaching in Delhi contains descriptive teaching of English, general knowledge, physics, mathematics, chemistry, etc. over the course gets completed, we conduct chapter wise test to check the progress of every student. Besides CDS Coaching Classes, students are also provided online test series and study material.
Here in a nutshell, we provide some important information which will help you to get an overview of the CDS examination pattern and how the academy works to accomplish its goals.
Eligibility Details:
1. Nationality: A candidate must be either
A citizen of India, or
A subject of Nepal, or
A subject of Bhutan, or
A Tibetan refugee who came over to India before 1st January, 1962 with the intention of permanently settling in India, or
A person of Indian origin who has migrated from Pakistan, Burma, Srilanka or East African countries of Kenya, Uganda, the United Republic of Tanzania, Zambia, Malawi, Zaire and Ethiopia or from Vietnam with the intention of permanently settling in India.
Provided that a candidate belonging to categories (b), (c), (d) and (e) shall be a person in whose favour a certificate of eligibility has been issued by the Government of India.
2. Age Limit:
For IMA: Unmarried male candidates or not earlier than 02-07-1993 and not later than 01-07-1998.
For Indian Naval Academy: Unmarried male candidates born not earlier than 02-07-1993 and not later than 01-07-1998.
For Air Force Academy: Unmarried male candidates age between 20-24 years as on 01-01-2017 (born not earlier than 02-07-1993 and not later than 01-07-1998).
For Officers' Training Academy (SSC Course for Men): Male candidates (married or unmarried) born not earlier than 02-07-1992 and not later than 01-07-1998.
For Officers Training Academy (SSC Women Non-Technical Course): Unmarried Women, issueless widows who have not remarried and issue-less divorcees (in possession of divorce documents) who have not remarried are eligible. They should have been born not earlier than 02-07-1992 and not later than 01-07-1998.
Note: Male divorcee/widower candidates can not be treated as unmarried male for the purpose of their admission in IMA/INA/AFA courses and accordingly they are not eligible for these courses.
3. Educational Qualification:
For I.M.A. and Officers' Training Academy: Degree of a recognized University or equivalent.
For Indian Naval Academy: Degree in Engineering from a recognized university/institution.
For Air Force Academy: Degree of a recognized University (with Physics and Mathematics at 10+2 level) or Bachelor of Engineering.
Note: Those candidates who are studying in the final years Degree course and have yet to pass the final year Degree examination are also eligible to apply.
Physical Standards: Candidates must be physically fit according to physical standards for admission to Combined Defence Services Examination.
UPSC Program for CDS Written Examination
| PAPER | AVAILABILITY OF FORMS | DATE OF EXAMINATION |
| --- | --- | --- |
| CDS -I | 08 NOV 2017 to 04 DEC 2017 | 04 FEB 2018 |
| CDS - II | 08 AUG 2018 to 03 SEPT 2018 | 18 NOV 2018 |
With perfect infrastructure, Gravity Institute is a place to get awesome educational experience. You will get various add-on features at Gravity Institute which are like interview preparation, mock tests, speed test and counseling along with advises on how to solve question paper.
This is the reason that they provide so many selections in CDS every year. This institute is a primary institute in Delhi where many students are contacting for the batches. They also offer classes as per your availability so that you can complete your college or other studies. Crash courses and other courses are also available along with reasonable fee.
So what are you waiting for. Contact us today for CDS coaching in Delhi.