Important things to Joining National Defense Academy (NDA)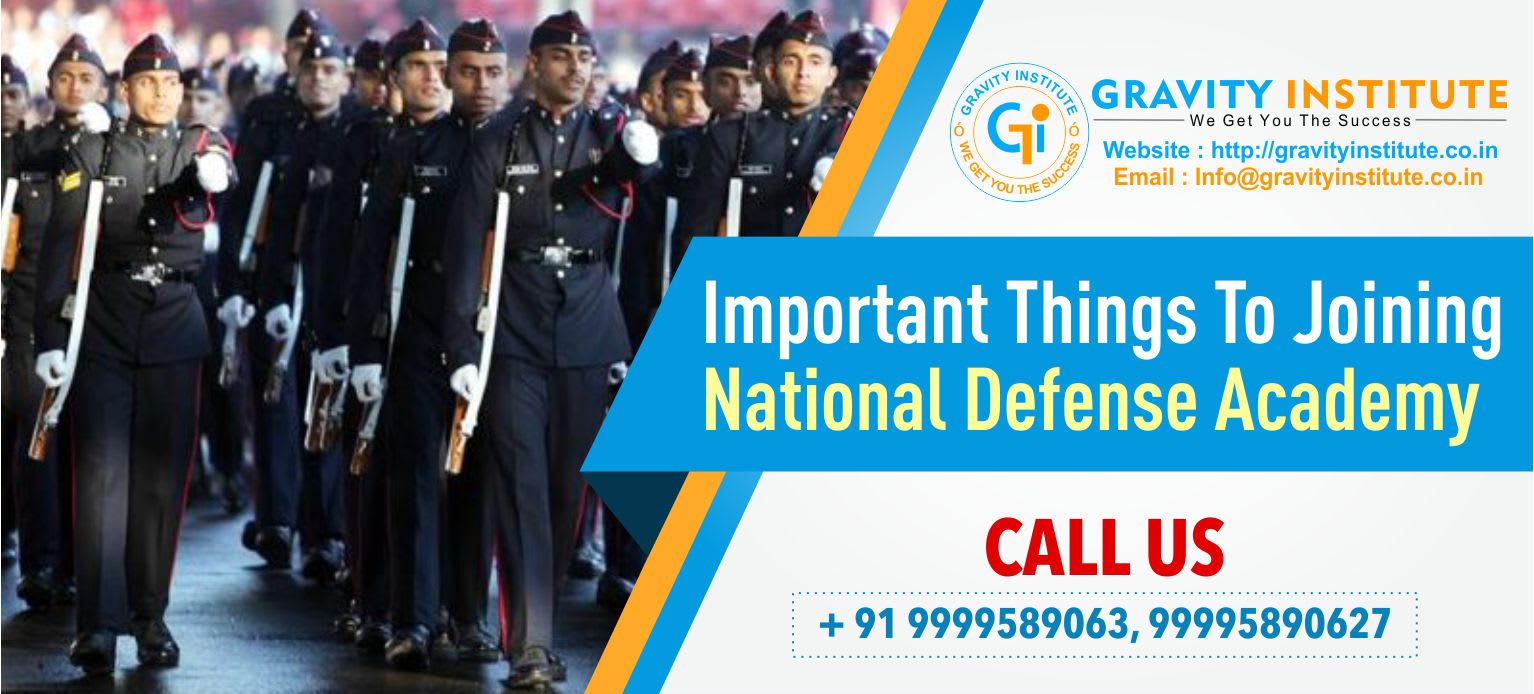 National defense academy is the academy for students who wish to serve the armed forces of India. This is the place where all the three wings of the armed forces, army, air force and navy practice before they go for their pre-commissioning training in their service academies.
Basic procedure
The basic procedure of getting into NDA is to first you need to be an unmarried male then give a written examination, then SSB and then medicals. After all this if you make it to the merit list then you are in. The written examination is conducted by Union Public Service Commission. Often aspirants go for NDA Coaching. There are certain things that you need to think before you go for a coaching. First and foremost being that you are investing in it and you need to find the best NDA coaching institute in Delhi. Gravity institute is one of the best coaching institute that has shown great results in past.
Eligibility
You get eligible for the examination at the age of 16.5 years and remain eligible till 19.5 years. You should have 12th Class of 10+2 System of Education/Equivalent for Army and with Physics and Math for AF/Navy. After you qualify everything, you will have a 3 year training at NDA and 1-1.5 year training at your respective service academies.
Stages of examination
Written examination– the written examination conducted by the UPSC is divided into 2 parts. The first part is math round of 300 marks that has questions of standard that you read in 11th and 12th standard. Going through the concepts thoroughly will be everything you needed. The second part is the general ability test. This has a part of English of 200 marks and a part of General Knowledge of 400 marks.

AFSB OR SSB

This is a 2 stage process. In this process you are examined by a board of examiners. This is the stage that many people are filtered. This is one of the most feared stage of the process though according to the experts it is not. There is absolutely no need to be in fear. Just remember to be yourself and you will get what you deserve.

Medical

Once you are declared qualified by the SSB, you are then medically examined by the board of medical officers. However, if the candidate is declared to be unfit he will be intimated twice before he is disqualified. Once he is intimated under appeal medical board and then under review medical board.

After all the three stages if you still make it to the merit list you become a part of the prestigious academy. You will then be trained for three years in the same academy. Around 3 lakh students appear in this examination out of which only 0.1% students make it. It is indeed a very competitive examination and hence you need to get into Best NDA Coaching in Delhi like Gravity institute. It might be a little competitive but the pride is huge and the hard work is absolutely worth it.

Tags: Best NDA Coaching in Delhi, NDA Entrance Exam, SSB Exam, UPSE Exam


Categorised in: NDA Exam

July 28, 2018 12:11 pm



Related Posts