Good Time to Start CLAT Preparation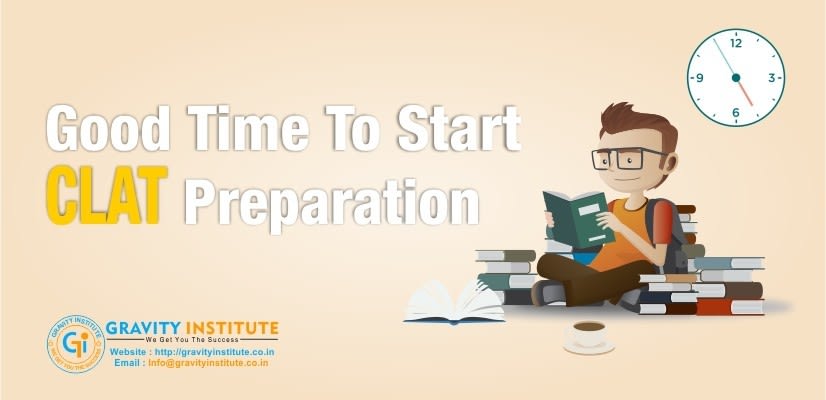 Whether you are a student who is preparing for the 12th boards or an undergraduate who is planning to make a career in law or a post-graduate who has just completed his LLB, the good time for you all to start your CLAT preparation is NOW!!!!!!
And, if there is someone out there who believes that he is technically late to start preparing for CLAT, to you 'LATE IS BETTER THAN NEVER". So, get out of illusions of early and late and start preparing for your CLAT 2020. If you guys are really serious about pursuing a career in law and education from a 5-year integrated programme from reputed law schools of the country then you should start right away.
CLAT 2020
CLAT is the flagship entrance exam for the National Law Universities. It comprises of an aptitude test with Multiple Choice Questions (MCQ). The examination consists of five sections, Legal Aptitude, General Knowledge, Verbal Ability, Reasoning (Math & English based) and Quantitative Ability. Gk all of you are aware of but legal aptitude will be relatively new for most of you. You may not have come across this subject during school curriculum.
The CLAT preparation basically involves three steps, Concept, Application and Test.
Concept: Concept means taking material from books and study it. Make yourself efficient in each and every subject that plays a part in CLAT. The concept module is completed before taking a break for Class XI annual exams.
Application: Once the concept module is done, start understanding how to apply whatever you have learned in the concept module practically. A considerable portion of this should be completed during the summer break before Class XII commences.
Test: Then comes the test module. In this process, pick the previous year question papers and solve as much paper as you can. Take the mock test, analyze each test conducted to identify your potential score in the exam. Improve the areas which are the weakest.
Conclusion
1. Start your CLAT preparation as early as you can.
2. Attend revision classes before Class XII begins.
3. Solve test papers and exam questions of previous years.
4. Practice, practice, and practice. More practice and early identification of potential score will give you a boost.

There will be a lot of aspirants among you for whom this is going to be the very first interaction with CLAT or even competitive examinations. Give yourself the time you need and have faith in your efforts. You all must be in a habit of answering lengthy questions and stepwise marking. This is going to be a completely different thing. Don't stress yourself with the abrupt change in the pattern, take time in changing your mindset and perform your best.

Tags: CLAT, CLAT Exam, CLAT Preparation


Categorised in: CLAT Exam

July 9, 2018 3:43 pm



Related Posts