Most Important thing to prepare CTET Exam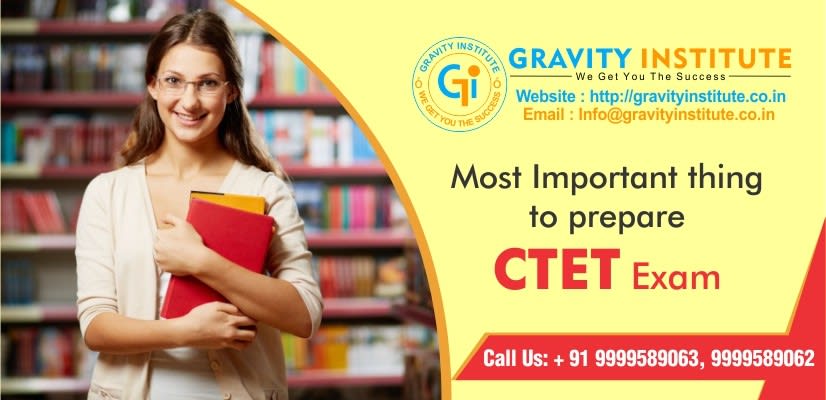 "True teachers are those who use themselves as bridges over which they invite their students to cross; then, having facilitated their crossing, joyfully collapse, encouraging them to create their own."
– Nikos Kazantzakis
A teacher plays an important role in our lives and we can't deny the fact that whatever we are today, we dedicate a portion of that to all our teachers. No wonder teachers are the most respected people in the world. CTET exam is held to produce quality teachers for the Central Government Schools to upgrade educational standards. Now private schools are too considering CTET results before hiring a teacher in their schools. The Central Board of Secondary Education conducts Central Teacher Eligibility Test (CTET) for those who want to be a teacher in the schools.
With the implementation of the Right of Children to Free and Compulsory Education (RTE) Act, there was a huge need to recruit teachers to fill the vacancies in various schools. Having said that, the recruitment process has to exhibit a certain amount of quality so that the right kind of teacher is recruited. Thus, the National Council for Teachers Education (NCTE) laid down the rule that a candidate aiming to join a school has to clear the Teacher Eligibility Test (TET). The CTET is entrusted with the Central Board of School Education. The preparation is important and the best preparation comes with the best CTET institutes in Delhi. Here we provide you with what is most important to prepare for CTET exam and how you can find best institute for CTET exam.
Most important thing to prepare CTET exam
Plan your preparation properly
We have been hearing this over and again that planning is the first step to perform any task. If you want to make it for CTET in the first attempt then you should plan your study properly. Planning is the best way to optimize your work. Make a timetable for each subject. Also, test yourself time to time by conducting a weekly mock test for yourself. This will evaluate your performance and also enhance your performance graph.
Understand exam pattern
It is very important for you to understand the exam pattern if you want to score well in exams. What kind of questions come in the exam and how the exam is written should be the questions you should aim for. Start with the easy questions and then go for hard questions.
Perform examination with perfect timing
The most significant part to crack any exam is time management. You need to give enough time to each subject. Some subjects need more time and some need less. Divide your time accordingly. You also need to manage your time so that you can complete your syllabus timely.
Negative marking- no problem
This is a plus point for you all that in CTET there is no negative marking. You have the right to make your approximate choice of the questions whose answers you are aware of.
Speed
Speed plays a relevant role in cracking CTET exam. Practice your questions as much as you can. This will give you a better understanding of the subjects and you will be able to crack your exam speedily.
Eliminate weaknesses
You need to focus on the areas in which you need to enhance your level, which according to you, are you weakest. Work on those areas. Study them over and again and eliminate your weaknesses.
Read important books
Read important and good books which gives you enough information to crack the exam. Arihant, Disha and Upkar publications are such books by which you can get a hang of the things.
What to do and what not to do?
Your time is very precious. Do not waste your time on the single question.

You don't have to be nervous during the exam. You are not making rockets. It is a simple exam that you have the ability to crack. So, keep calm and solve questions.

Believe in yourself and do not lose confidence.

First of all solve those questions first which you are confident about.

Read question paper correctly.
Tags: Best CTET Coaching, Best CTET Coaching in Delhi, Crack CTET Exam, CTET ENTRANCE


Categorised in: CTET Exam

October 1, 2018 6:48 pm



Related Posts