Tips and Strategy for CLAT entrance examination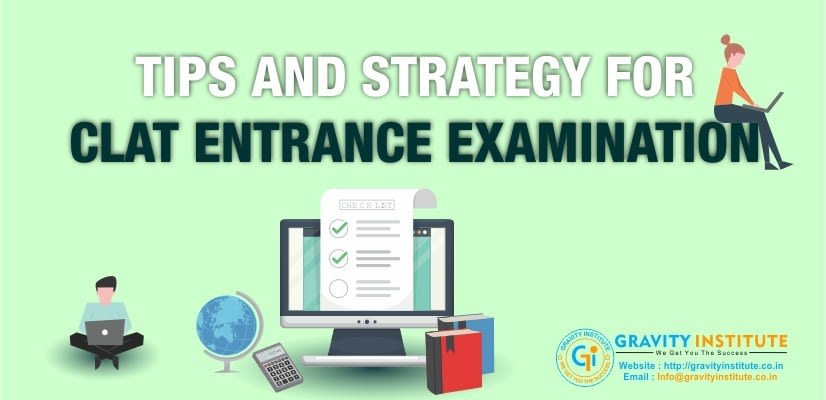 The success rate of CLAT is 20:1 which means that out of 20 students sitting in CLAT examination, only one cracks the test. CLAT is a high powered examination for the students who want to study in the top law universities. It is the entrance test to take admission in 2400 seats spread across 18 NLUs for which 45000-50000 aspirants appear. It cannot be cracked overnight. One needs immense dedication and hard work to clear CLAT. Here we list down few tips and strategies to crack CLAT successfully.
Mental strength
The first and the foremost thing that an aspirant needs to crack CLAT is the mental strength because a mental ability of a person will decide his working framework. A student should be mentally strong and be able to deal with any kind of failure to achieve something better. This will not only help you in dealing with the setbacks but determine how you handle yourself for preparation of CLAT.
Focus on your studies
There are two kinds of students preparing for CLAT, one, who have been preparing for the examination for several months, Two, who have finished their Board exams and thereafter started CLAT preparation. In both the cases, it is important that how both the categories focus on their last minute preparations which starts few weeks before the CLAT examination. So, focus on your studies dedicatedly, especially few weeks before the CLAT. Devote 8-10 hours daily to studies.
Coaching
CLAT is an examination in which it is not necessary that all the subjects would give you a chance to score good marks. You need to understand this that what to study, and more importantly, what not to. The time for the examination is limited and you need to plan your syllabus carefully. Not all parts of the syllabus are equal. So, consider taking a coaching for CLAT. The guidance will give you a sort of idea that what is more important and what is least important. For example the topics which gives you a chance to score more are
UN Bodies (GK)

Important Awards (Current Affairs)

Legal Maxims (Legal Aptitude)

Criminal Law questions (Legal Aptitude)

Direction Problems (Logical Reasoning)

Blood Relations (Logical Reasoning)

Ratio and Proportion (Mathematics)

Percentages (Mathematics)

Cloze Test (English)

Idioms and Phrases (English)
Build strategy

You need to study each subject strategically if you want to score good marks in CLAT. Focus on every subject keeping in mind what role a particular subject plays in the exam. Focus more on the subjects that can fetch you more marks and strategize accordingly.

Hard work

Strategy is undoubtedly an important part of any kind of preparation but never ever forget that there is no substitute to hard work. So, work as harder as you can and achieve what you want to achieve in life.

Tags: Best CLAT Coaching in Delhi, CLAT Exam, CLAT Preparation, coaching for CLAT, preparing for CLAT


Categorised in: CLAT Exam

March 15, 2019 10:30 am



Related Posts