what is the educational qualification to apply NDA entrance exams?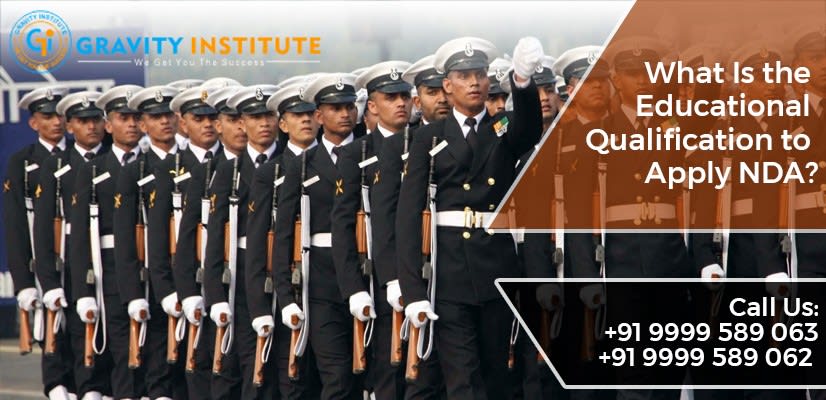 The entrance exam for National Defence Academy 2019 has been scheduled to be conducted on April 21, 2019, and Union Public Service Commission (UPSC) has prescribed the eligibility criteria of NDA (1) 2019 in the notification qualification criteria incorporate nationality, age limit, instructive capability, and physical standard. According to the eligibility criteria 2019, candidates must be between 16.5 and 19.5 years of age. Here are the detailed eligibility criteria of NDA exam. Choose the best NDA Coaching in Delhi and Crack NDA Entrance Exam in First Attempt.
Eligibility Criteria
The candidates must fulfill the following criteria to participate in the exam. The candidate must be:
(i) a citizen of India, or
(ii) a subject of Bhutan, or
(iii) a subject of Nepal, or
(iv) a Tibetan refugee who came over to India before January 1, 1962, with the intention of permanently settling in India, or
(v) an individual of Indian starting point who has moved from Pakistan, Burma, Sri Lanka and East African Countries of Kenya, Uganda, the United Republic of Tanzania, Zambia, Malawi, Zaire,and Ethiopia or Vietnam with the intention of permanently settling in India.
Moreover, Candidate belonging to categories (ii), (iii), (iv) and (v) must have a certificate of eligibility in their favor issued by the Government of India. In any case, hopefuls hailing from the Gorkha locale of Nepal won't require a declaration of qualification.
Age Limit
The candidates must born not earlier than July 2, 2000, and not later than July 1, 2003. The date of birth should match the date in the matriculation or higher secondary examination certificate. Just unmarried competitors are qualified to apply for NDA examination.
Educational Qualification
The educational qualification depends upon the wing a candidate is applying for.
Applicants applying for admission to the Army wing of National Defense Academy ought to have passed Class 12.The candidates must have passed class 12 with Physics and Mathematics conducted by State Education Board/ University for the airforce and naval wing. The candidates appearing in Class 12 or equivalent examination are also eligible to apply for NDA 2019. Be that as it may, those showing up/passing class 11 tests are not qualified.
Physical Standards
The candidates should be physically and mentally fit in order to participate in the NDA entrance exam. In case, if a candidate have resigned or withdrawn on disciplinary grounds from any training academies of armed forces are not eligible for the examination.
Visual Standards
The corrected distance vision of better eye must be 6/6 and that of the worse eye should be 6/9. Myopia should not be more than -2.5D including astigmatism. Manifest hypermetropia must not be more than +3.5D including astigmatism. Internal examination of the two eyes will likewise be finished by methods for ophthalmoscope to preclude illnesses of the eye. Candidates should also have good binocular vision. Colour vision standard for the exam is CP-III (Defective Safe).The applicants must probably perceive white, red and green hues effectively as appeared by Martin's Lantern at a separation of 1.5 meters or read imperative plate of Ishihara Book/Tokyo Medical College Book. Applicants experiencing Radial Keratotomy to improve visual keenness or potentially Laser Surgery to address refractive blunder will be forever dismissed for all administrations of the test.
Download Reasoning sample chapter:- Reasoning sample chapter

Tags: Best NDA Coaching in Delhi, NDA Coaching Classes


Categorised in: NDA Exam

March 26, 2019 4:52 pm



Related Posts